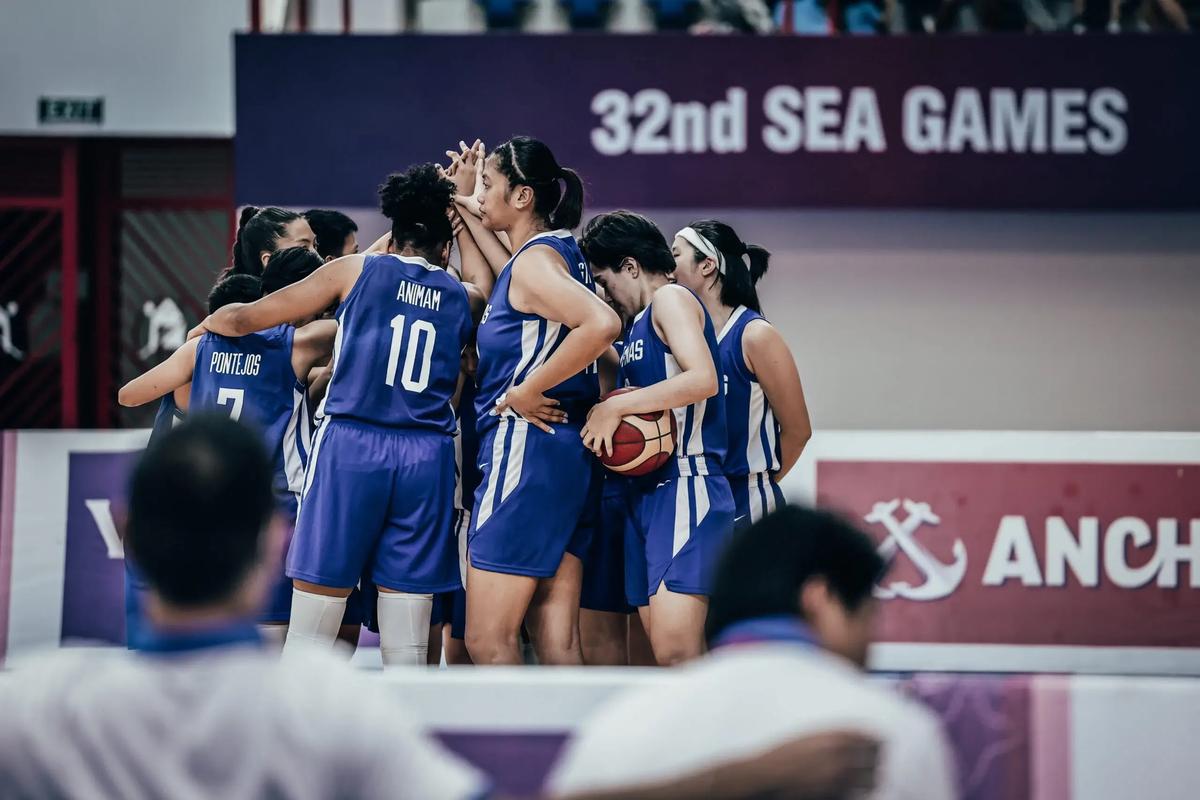 Photo credit: Ariya Kurniawan

Gilas Pilipinas Women beat Malaysia, 77-63 in the virtual silver medal match of the women's basketball 5x5 event on Monday, May 15 at the Morodok Techo National Stadium in Phnom Penh, Cambodia.

Veteran Janine Pontejos led Gilas in scoring with 24 points on 6-of-13 shooting from the field, including 5-of-11 from beyond the arc, along with 3 rebounds, 2 assists, and 2 steals in 21 minutes of play. Khate Castillo had a solid game of 18 points (7/17fg, 4/11 3pts) while Camille Clarin added 9 points, 3 rebounds and 3 assists.

The Philippines finished second with a 5-1 record in the seven-team single round-robin event, while Malaysia (4-2) finished with the bronze medal. Indonesia, led by two naturalized players, Kim Pierre-Louis and Peyton Alexis Whitted, completed a 6-0 sweep to dethrone the defending champion Philippines and secure the gold medal.

The Patrick Aquino-mentored Gilas Women 12 consists of Jack Danielle Animam, Afril Bernardino, Janine Pontejos, Clare Castro, Khate Castillo, Camille Clarin, Katrina Guytingco, Ella Fajardo, France Mae Cabinbin, Stefanie Berberabe, Andrea Tongco and Angel Surada.

Gilas Women will be back in action from June 26 to July 2 for the 2023 FIBA Women's Asia Cup in Sydney Olympic Park Sports Hall, Sydney, Australia. The Philippines (World #42, Asia #7) is in Group B along with Australia (World #3, Asia #2), Japan (World #9, Asia #3), and Chinese Taipei (World #33, Asia #6).

The Scores:
PHILIPPINES 77
– Pontejos 24, Castillo 18, Clarin 9, Bernardino 7, Animam 6, Cabinbin 6, Berberabe 4, Fajardo 3s, Castro 0, Surada 0.
MALAYSIA 63
- Pang 15, Chong 10, Saw 6, Yap 6, Foo 6, Tan 5, Low 5, Chia 3, Ooi 3, Rajintiran 2, Lee 2, Yaakob 0.
Quarters:
21-10, 48-29, 60-48, 77-63.
[FULL REPLAY]
|
[Buy Gilas Jersey]
(ADS)
Buy Jordan Shoes
[BUY NOW]
(ADS)
Buy Gilas Pilipinas Jersey
[BUY NOW]
(ADS)
Ateneo Shirts & Hoodies
[BUY NOW]
SUBSCRIBE
to our new
YouTube channel
for game highlights, live stream and more!
Online Store (Promo, Buy Now!)
PBA JERSEY
|
NIKE
|
ADIDAS
|
GILAS JERSEY
|
ATENEO MERCH
|
DECATHLON